Diocesan Bishop Vacancy - Public Meeting
3 weeks ago
Wed, 3 Oct, 2018, 7:30pm @ Norwich Cathedral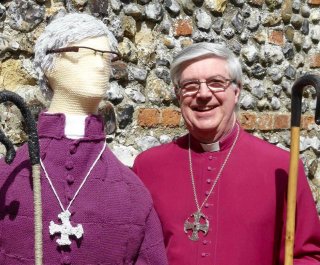 There are now specific dates we can pray for and the process has become clear! The initial large membership of the Vacancy in See Committee will be reduced to six on October 16th who go forward to work with the national nomination committee, The Archbishop of Canterbury, the Prime Minister's Office and the Queen's staff. The six are elected from those already on the Committee. Please pray for clear leading and discernment and that the right people for Norfolk are chosen.
The full committee meets in Norfolk on 28th August, 2nd October and 16th October.
There is a PUBLIC MEETING Consultation to be held for all Norfolk people on 3rd October 7.30 pm at the Cathedral.  Please do come to make your voice heard, and please do pray.
We are asked to think about the kind of person we want but also what we want candidates to know about Norfolk.
You can also make your views known directly online, by following this link to the diocesan "Vacancy in See" page.  People can commit their thoughts on line directly to the Secretary of the Committee. They can also contact any of the members which are listed on the same web page.
We are also asked to pray this prayer whenever we can, to cover the whole process in God's blessing. It may take some time as there are a  number of Bishoprics in vacancy at present. Please pray for the staff who will have to cover the work in Bishop Graham's absence after February 2019.
Bishop Alan writes this about the vacancy and the process, and offers us a prayer to use...
What is a Bishop (Feel free to edit as appropriate)
1.Every bishop is the chief pastor of all that are within his diocese, laity as well as clergy, and their father in God; it appertains to his office to teach and to uphold sound and wholesome doctrine, and to banish and drive away all erroneous and strange opinions; and, himself an example of righteous and godly living, it is his duty to set forward and maintain quietness, love, and peace among all men.
2. Every bishop has within his diocese jurisdiction as Ordinary except in places and over persons exempt by law and custom.
3. Every bishop is, within his diocese, the principal minister, and to him belongs the right, save in places and over persons exempt by law or custom, of celebrating the rites of ordination and confirmation; of conducting, ordering, controlling, and authorising all services in churches, chapels, churchyards and consecrated burial grounds; ... of being president of his diocesan synod.
Ministry in the wider Church and Nation
The role of bishops is not confined to their own dioceses. As the statement at ordination services makes clear, the 'special responsibility to maintain and further the unity of the Church, to uphold its discipline, and to guard its faith' is one which bishops share with their fellow bishops, and they are to promote the mission of the Church 'throughout the world'. They are members of the College of Bishops at the provincial and national levels and attend the Lambeth Conference of all the bishops in the Anglican Communion.
All diocesan bishops are members of the House of Bishops of the General Synod and therefore share in responsibility for the leadership of the Church of England nationally and for relationships between the Church of England and the Church in other countries. Beyond their formal synodical role, diocesan bishops tend to be the public face of the Church in the eyes of the media and therefore perform an important communications role. Most diocesan bishops carry particular national responsibilities, chairing committees or boards within the National Church Institutions, ecumenically, or in connection with religious charities.
The Archbishops of Canterbury and York and the Bishop of London are privy counsellors. They are also members of the House of Lords, as are the Bishops of Durham and Winchester and twenty-one of the other diocesan bishops in England, Bishops may also be invited to contribute their experience or expertise to the deliberations of national government or regional bodies on particular issues. Diocesan bishops will thus also be called upon sooner or later to play a leading part in national life and to represent not just their dioceses but also their regions at the national level.
It is important that all who are involved in the process for choosing diocesan bishops bear in mind not just the role of diocesan bishops in their own dioceses, but also the ministry which they are called upon to exercise nationally and, in many cases, internationally as well
Eternal God, our shepherd and guide,
in your mercy give your Church in this Diocese
a shepherd after your own heart
who will walk in your ways,
and with loving care watch over your people.
Give us a leader of vision and a teacher of truth.
So may your Church grow and be built up,
and by your grace accomplish more than we can imagine,
for the glory of your name,
through our Lord Jesus Christ. Amen.
Back to top of page
Contact Adrian for more details - 01508 571167