Flordon Film Night: The Bookshop, with mulled wine and minced pies
Wed, 19 Dec, 2018, 7pm @ Flordon Church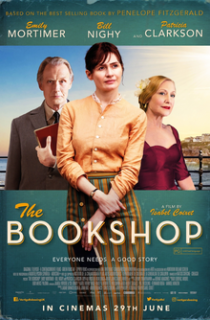 4 days to go
This month we are showing...
THE BOOKSHOP (2017) Drama PG 113 minutes
It is 1959, and widowed Florence Green (Emily Mortimer) risks everything to open up a bookshop in the sleepy seaside town of Hardborough. When she exposes the narrow minded townsfolk to the best literature of the day including Nabokov's scandalizing "Lolita" and Ray Bradbury's "Fahrenheit 451", she gains a kindred spirit and ally in the figure of Mr Brundish (Bill Nighy), who is himself sick of the town's stale atmosphere, but has to reckon with the hostility of the other shopkeepers and of self-appointed doyenne Mrs Gamart (Patricia Clarkson).
Please come early for mulled wine, sausage rolls and minced pies!
New members are always welcome.  Subscriptions for 2019 are now due please.
Call or email David to book your tickets.
Contact David for more details - 01508 470118