Film Screening: Journey's End
Fri, 2 Nov, 2018, 7:30pm @ Flordon Church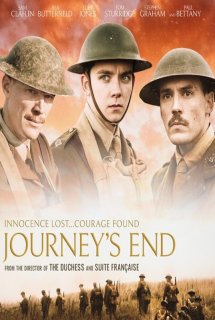 2 weeks to go
Film Screening: 'Journey's End'
As part of our commemorations of the 100th anniversary of the end of World War One, we will be holding a special FREE screening of the 2018 film 'Journey's End'. The film will be shown at Flordon Church on Friday 2nd November at 7:30pm, with doors open from 7:00pm. 
The film, based on the novel by R C Sherriff,  is set in a dugout in Aisne in 1918,  and tells the story of a group of British officers, led by the mentally disintegrating young officer Stanhope, as they await their fate. The film is a 12A, it is not a violent war film, but an examination of the psychological damage of war described by The Times as "The First World War film to end them all". 
Whilst the screening is free of charge, refreshments will be served for a donation which will be split 50/50 between the charity 'Combat Stress' and Flordon Church.
A trailer for Journey's End can be found here: https://www.youtube.com/watch?v=tLpyaLNfudY 
More information on Combat Stress can be found here: https://www.combatstress.org.uk/ 
(Please note that we have no control over the content of external websites).
Contact Andrew for more details - 01508 500343